Curriculum
The Internal Medicine Residency at Mayo Clinic is among the best programs in the world for post-graduate medical training. Join us for an inside look at a typical day on the wards and life in Rochester, Minnesota.
Clinical training and practice exams
Residency education at Mayo is based on a foundation of general internal medicine. The program includes rotations in all internal medicine subspecialties, intensive care, neurology, and emergency medicine. Most rotations allocate separate blocks of time in the inpatient, outpatient, and consultative settings.
Excellence in medical education is a requirement of our faculty members, who are selected for hospital service and outpatient education clinics based on the effectiveness of their teaching. Faculty members have dedicated, protected time to provide teaching to the residents with whom they work.
You'll also receive comprehensive board review materials as well as electronic access via iPad (provided by the program) or computer systems and an extensive collection of electronic resources. Scheduling is flexible, and preferred rotations can be scheduled to facilitate planning a subspecialty career.
Rochester campus
Downtown campus
At the heart of downtown stands the focal point of Mayo Clinic. The historical mixes with the modern in the 30+ downtown buildings dedicated to specialty care, primary care, clinical laboratories, research, medical education, and administration.
Mayo Clinic Hospital, Saint Marys campus
The Saint Marys Hospital campus is located 10 blocks west of downtown. It houses numerous surgical specialties, a Level 1 Trauma Center, Mayo Eugenio Litta Children's Hospital, and Mayo Clinic Psychiatric Hospital. The campus has 1,287 beds, 55 operating rooms, and 10 intensive care units.
Customizable schedule
The Internal Medicine Residency offers an unlimited number of customizable schedules that you can alter as you progress through training via elective and selective time. You may choose to focus your schedule on areas including, but not limited to, the following:
Education
Geriatrics
Global health
Hospital medicine
Women's health
See the sample three-year curriculum.
Starting in 2023, the program will offer a fully customized three-year primary care track to two applicants each year. All incoming residents are invited to apply for these two spots after the match, and they are filled on a competitive basis
We offer a formal Clinician Investigator Training Program with six months of dedicated research time during residency. Unlike the above schedule examples, which do not require applications, this research track is a separate application (NRMP 1328140C1) during the match or can be pursued through a PGY-2 application process.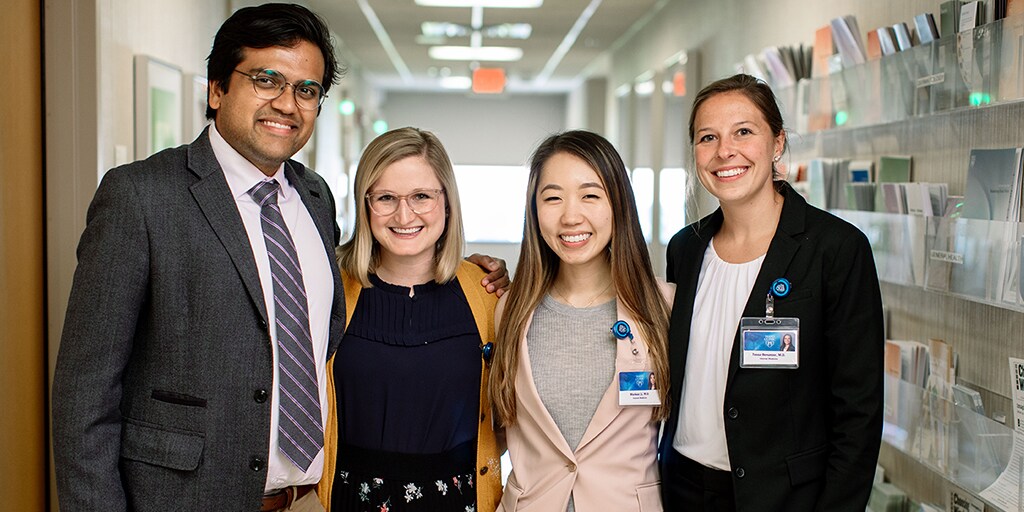 Procedures and ultrasound curriculum
Ample training and experience are provided to gain expertise in procedures such as paracentesis, central line insertions, arthrocentesis and lumbar punctures. You'll complete a procedure skills workshop before starting residency, and additional training throughout residency to refine these skills.
Early in your training, you will participate in a Procedure rotation, as well as a formal ultrasound curriculum with progression from simulation training on a virtual reality mannequin to active clinical acquisition with mentored review of archived images. You may also elect to rotate on the pleural procedure team to gain experience in thoracentesis as well as in the ambulatory procedure clinic for additional experience performing outpatient procedures with or without ultrasound guidance. Finally, you will also have scheduled learning experiences in the Multidisciplinary Simulation Center.
Subspecialty rotations
Approximately half of the three-year program is spent in outpatient assignments. Experience includes the Department of Medicine Primary Care Clinic for residents as well as outpatient clinics that are embedded in subspecialty rotations including Endocrinology, Rheumatology, and Allergy and Immunology. You'll learn to practice high-quality, cost-effective outpatient medicine during your ambulatory care experiences. Residents uniformly cite these ambulatory clinic experiences as an invaluable part of their training. Additionally, you will rotate through primary subspecialty services including Pulmonary Medicine, Cardiology, and Gastroenterology, and inpatient consultative services including Nephrology and Infectious Disease.
Continuity clinics
To enhance both experiences, continuity clinics are only during outpatient training months, not during inpatient months. You will follow your own patients in the newly designed and integrated Department of Medicine Primary Care Clinic of Excellence for residents. The resident continuity has been equipped with a high-tech observation system to allow trainees to have regularly observed clinical encounters, equipment to facilitate in-office procedures, and integrated services to optimize patients' access to health care resources.
Call frequency
Interns work no more than 16 hours each duty period during inpatient rotations. Call structure for second- and third-year residents varies from rotation to rotation with a mix of night float, home call, 24-hour senioring shifts, and routine day call. All schedules are fully compliant with ACGME requirements.