Meet The Faculty
Welcome!
As the chief residents of the Internal Medicine Residency in Rochester, our goal is to create a welcoming learning environment to help all of our residents reach their goals. We are so often inspired by the clinical and scholarly work our residents do, and even more by the care they show for their patients and each other.
Our favorite part of our work day is interacting with our trainees, whether it be learning together at morning report, developing quality improvement projects, or staffing the inpatient medicine services and outpatient clinics.
We look forward to meeting you as you embark on your path to residency!
Christopher, Nirosha, Alessandra, and Benjamin
2023-2024 Chief Medical Residents
Department and faculty
Clinical and research faculty members in the Department of Internal Medicine are committed to teaching and the growth of medical knowledge. Faculty members publish and lecture extensively and are well-regarded in their fields. As a resident, you'll have direct access to these individuals throughout our training.
Scholarly productivity for department faculty averages more than 2,900 original peer-reviewed publications each year and more than 275 book chapters, editorials and review articles each year. This level of faculty scholarship provides a rich environment for resident research and contributes to a high level of resident productivity.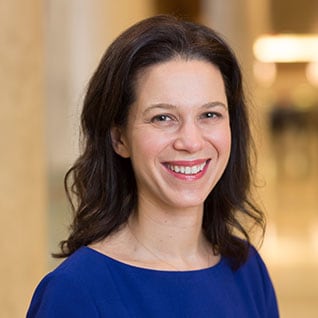 From the program director
This is an exciting time to embark on a career in internal medicine. Your residency training predicts the quality and value with which you will practice medicine throughout your career.
Mayo Clinic values education. Our internal medicine residents learn from world-expert physicians who provide an appropriate balance of autonomy and support and are optimally prepared for a successful next step in their careers.
I'm looking to recruit trainees who are passionate about internal medicine, have a strong work ethic, are patient-centered, and work well on teams. In return, I promise to give you an experience that will live up to all of your expectations!
Carrie Thompson, M.D., M.S.
Internal Medicine Residency Program Director
Associate Chair, Department of Internal Medicine
Associate Professor of Medicine
Associate program directors
John Bois, M.D.

Consultant, Cardiology
APD for Preliminary Residents

Sara Bonnes, M.D., M.S.

Consultant, General Internal Medicine
APD for Residency Competency

Alice Gallo De Moraes, M.D.

Consultant, Pulmonary and Critical Care Medicine
APD for Learning Environment: Inclusion Beyond Diversity

Sahil Khanna, M.B.B.S., M.S.

Consultant, Department of Gastroenterology and Hepatology
APD for Career Development

Emily Leasure, M.D.

Consultant, Division of Primary Care Internal Medicine
APD for Ambulatory Training

John Ratelle, M.D.

Consultant, Division of General Internal Medicine
APD for Quality Improvement/Patient Safety (QI/PS) and Accreditation

Chris Stephenson, M.D.

Consultant, General Internal Medicine
APD for Inpatient Training

Diego Suarez, M.D.

Consultant, Community Internal Medicine
APD for Recruitment and Marketing

Andrea Wahner Hendrickson, M.D.

Consultant, Division of Medical Oncology
APD for Resident Scholarship and Curriculum

Rahma Warsame, M.D.

Consultant, Division of Hematology
APD for Selectives and Electives
I feel fully supported in every area of my training, from research to the clinical sphere. Thinking back to my interview day when I experienced Mayo Clinic rounds for the first time, I thought that the senior resident was the attending. I was so impressed that day and I knew that Mayo would train me to become the best internist I could be.
Mitra Moazzami, M.D.
Internal medicine resident