M.D.-Ph.D. Program – Arizona Campus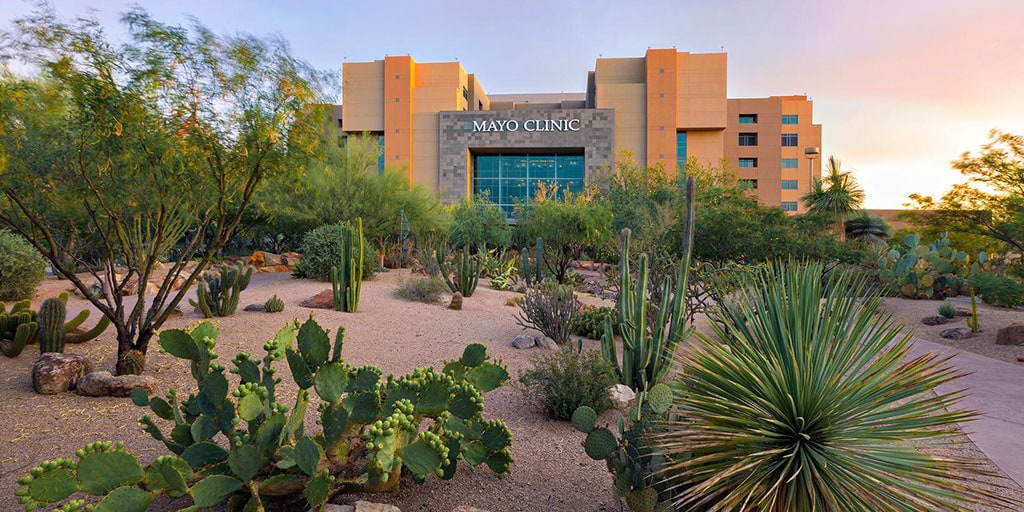 M.D.-Ph.D. Program in Phoenix/Scottsdale, Arizona
Two students are admitted each year to the M.D.-Ph.D. Program at Mayo Clinic in Arizona.
The Mayo Clinic Alix School of Medicine opened its Arizona campus in 2017. In 2021 the first M.D. class graduated, and the first class of M.D.-Ph.D. students was admitted. This program is fully funded by Mayo Clinic with a fellowship that covers your tuition and stipend for eight years.
Research on the Arizona campus is available in all eight Ph.D. tracks.
Director's welcome
The 2021 inauguration of the Mayo Clinic M.D.-Ph.D. Program in Arizona reflects Mayo Clinic's ongoing commitment to thoughtfully expanding its research, patient care, and educational activities in the Phoenix and Scottsdale areas. Our two new M.D.-Ph.D. students each year join a cohort of more than 20 Ph.D. students doing research on the Mayo Clinic Arizona campus.
The Mayo Clinic Alix School of Medicine and Mayo Clinic Graduate School of Biomedical Sciences offer exceptional educational opportunities. The medical curriculum on the Arizona campus is the same as on the Minnesota campus. Courses taken during the Ph.D. training might originate on any of the three Mayo Clinic campuses but are made available live to graduate students on every campus via interactive videoconferencing.
My vision for the Mayo Clinic M.D.-Ph.D. program in Arizona is to integrate the medical school and graduate school experiences so that students receive the training they need to become successful clinician-scientists who are truly able to take clinical problems from the bedside to the bench and back again, thereby improving the understanding of disease and care of patients.
I am honored to serve as the founding director of the Mayo Clinic M.D.-Ph.D. Program in Arizona. I encourage you to take a good, long look at our program and apply! Please do not hesitate to contact me with any questions.
Campus and community: Living in Phoenix, AZ
Known as the 'Valley of the Sun,' life in the Phoenix area is always sunny, and temperate more than nine months of the year. Residents love the year-round outdoor activities, close hiking options, and day trip opportunities to some of the most visited places in the United States. As the fifth-largest city in the nation, you can expect big city living and the abundance of leisure activities, restaurants, shopping, and more that come along with that.
Mayo Clinic in Arizona opened in 1987 and has since evolved into a multidisciplinary campus that has become a vital part of health care in Arizona. We're a community that strives to see you succeed and help you get involved to become the health care provider you want to be!