Ph.D. Programs and Faculty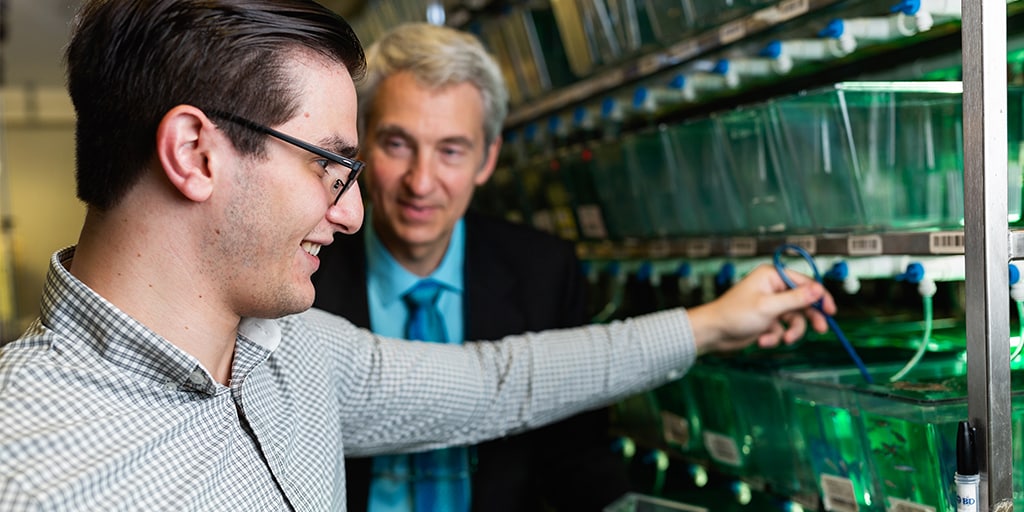 Directors' welcome
The Mayo Clinic M.D.-Ph.D. Program embodies Mayo Clinic's core value of "the needs of the patient come first" by training outstanding physician-scientists who will advance the science of medicine and translate those discoveries into medical solutions.
The Mayo Clinic Alix School of Medicine and Mayo Clinic Graduate School of Biomedical Sciences offer an exceptional opportunity to a highly select group of students who wish to pursue a combined M.D.-Ph.D. degree. The graduate school faculty is composed of more than 300 world-class investigators in seven graduate school tracks. In 2017, we launched a first-of-its-kind transdisciplinary Regenerative Sciences doctoral training program to develop the next generation of physician-scientist leaders in regenerative science and medicine.
Our vision for the Mayo Clinic M.D.-Ph.D. program is to fully integrate the medical school and graduate school experiences, thereby creating synergy in the activities leading to both degrees. Mayo Clinic is a pre-eminent institution that provides state-of-the-art technologies in medicine, science, and engineering.
We are extremely honored to serve as leaders of the Mayo Clinic M.D.-Ph.D. Program. Our primary goal is to equip our trainees with the skills needed to become the leaders of tomorrow's clinical, research, and educational missions. We encourage you to apply! Please do not hesitate to contact us with any questions.
Kendall Lee, M.D., Ph.D.
M.D.-Ph.D. Program Co-Director, Rochester campus
Mayo Clinic Neural Engineering Laboratories Director
Professor of Neurologic Surgery
Professor of Biomedical Engineering
Scott Kaufmann, M.D., Ph.D.
M.D.-Ph.D. Program Co-Director, Rochester campus
Chair, Department of Molecular Pharmacology and Experimental Therapeutics
Professor of Pharmacology
Professor of Medicine
John Fryer, Ph.D.
M.D.-Ph.D. Program Director, Arizona campus
Associate Dean, Mayo Clinic Graduate School of Biomedical Sciences
Associate Professor of Neuroscience
Explore the graduate programs
Aspiring biomedical scientists must acquire a broad background of knowledge and expertise, as well as develop in-depth understanding of their primary area of research interest.
During your graduate studies, you'll discover a unique research training environment of academic inquiry and scientific discovery, combined with exceptional intellectual and technological resources designed to help you achieve your highest scientific career goals.
Tracks
Our Ph.D. Program in biomedical science offers seven areas of specialization, known as tracks. Learn more about the ways you can specialize during your graduate studies.