Curriculum Timeline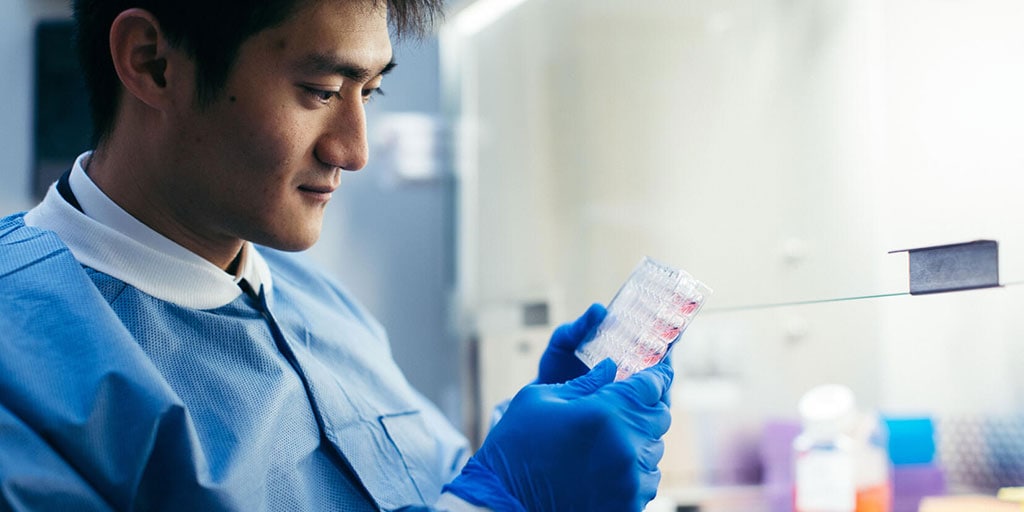 Training begins with a month-long laboratory rotation the summer before the start of medical school. Through lab rotations you will experience different types of research, laboratories, and mentors. You will use this rotation to help choose your area of specialization.
During lab rotation, students look forward to the M.D.-Ph.D. Program annual retreat for students and faculty. The retreat includes oral and poster presentations, program discussion, social time, and a lecture given by a Mayo Clinic physician-scientist or alum of the program.
Preclinical/pre-thesis training
Graduate training
Re-entry phase
Clinical training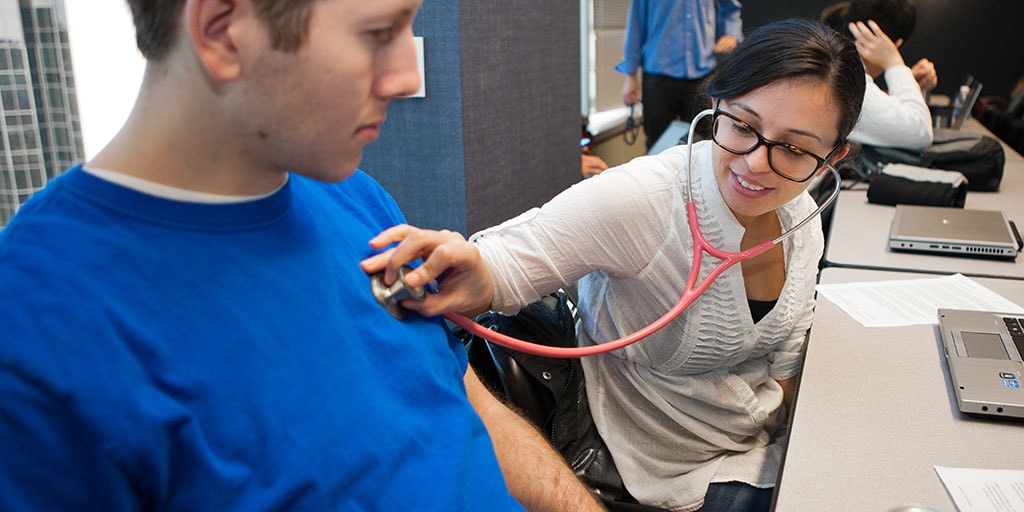 Starting in July of the first year, clinical training begins within Mayo Clinic Alix School of Medicine.
You will complete both preclinical years of the Mayo Clinic Alix School of Medicine curriculum before your thesis research. This allows you to gain a strong biomedical foundation for both the investigative and clinical aspects of your career.
The preclinical curriculum consists of 19 didactic Blocks over a two-year period. Each block contains a clinical component (clinical integration) that provides clinical experiences directly related to topics covered in the classroom. During this time, you will also gain a strong foundation in clinical history taking and physical examination.
Blocks 1-9 focus on fundamental topics. Blocks 10-19 are organized by organ system and provide integrated introductions to the physiology, pathology, pathophysiology, and therapeutics of each major organ system.
The Blocks include:
Year 1
Year 2

1. Science of Healthcare Delivery, Part I

2. Biochemistry, Medical Genetics and Histology

3. Ethics

4. Anatomy

5. Science of Healthcare Delivery, Part II

6. Pathology and Immunology

7. Microbiology and Pharmacology

8. Neurosciences

9. Introductions to Psychiatry

10. Circulation

11. Oxygen

12. Hematology

13. Musculoskeletal

14. Renal

15. Urinary Track

16. Endocrine

17. Gynecology

18. Nutrition and Digestion

19. Preclinical Block
The Mayo Clinic Alix School of Medicine 2020-2021 curriculum map (PDF) further details Year 1 and Year 2 of the medical training.
The goal of this curriculum is to decrease the amount of time in lecture and enhance active learning. While we still hold required classroom lectures, the curriculum focuses more extensively on laboratory, small-group, and problem-based strategies.
Future physicians often learn best when they see a patient who represents the topic. Our curriculum includes several half-days per week to focus on seeing patients in the specialty area associated with the organ block under discussion. By the end of your clinical training, you will have developed an extensive foundation in human biology as well as substantial clinical skills.
Separating the clinical training Blocks are week-long Selectives (27 weeks in total over the first two years), which provide students the ability to pursue a variety of interests, including career exploration, self-directed learning, additional "shadowing" experiences, introductions to various labs, service learning, or volunteer work. There are also Selectives designed specifically for M.D.-Ph.D. students.
Other key milestones during the preclinical/pre-thesis phase of your training are laboratory rotations and completing the process of selecting your Ph.D. thesis adviser.
Learn more about the M.D. Program within Mayo Clinic Alix School of Medicine.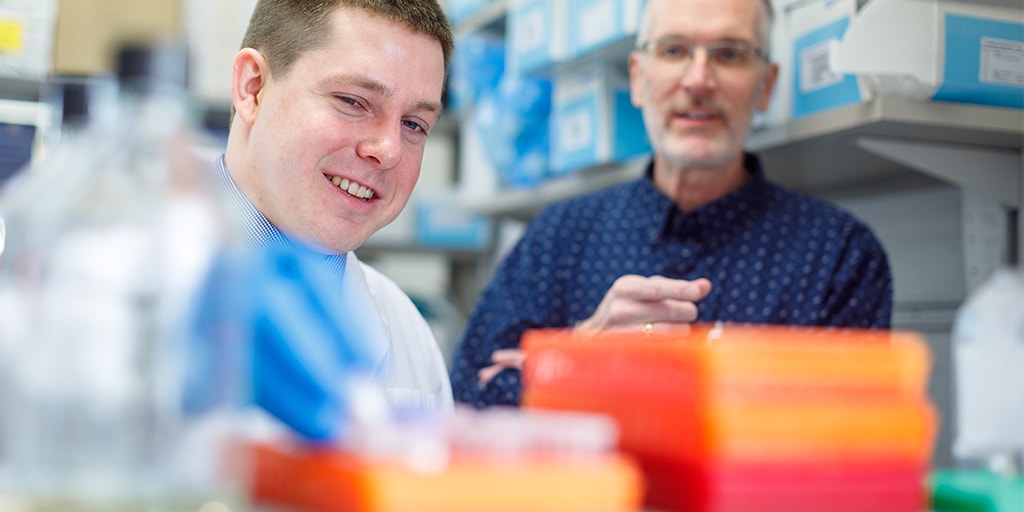 After completing the United States Medical Licensure Examination (USMLE) Step 1 exam, you complete your third laboratory rotation (optional) and switch to full-time graduate studies.
If you have not done so already, you will start by selecting your area of specialization (track) and Ph.D. thesis advisor (and thesis advisory committee members) from among the Mayo Clinic Graduate School of Biomedical Sciences faculty. The faculty participate in one of eight multi-disciplinary Ph.D. tracks, including:
Biochemistry and Molecular Biology (BMB)
Biomedical Engineering and Physiology (BMEP)
Clinical and Translational Science (CTS)
Immunology (IMM)
Molecular Pharmacology and Experimental Therapeutics (MPET)
Neuroscience (NSC)
Regenerative Sciences (REGS)
Virology and Gene Therapy (VGT)
Most students complete their graduate school courses by the end of Year 3 or early in Year 4.
During the remainder of your graduate school time, your thesis is your primary focus. You work closely with your mentor but also have collaborative interactions with other research faculty and their laboratories.
Learn more about the Ph.D. Program and specialization tracks within Mayo Clinic Graduate School of Biomedical Sciences.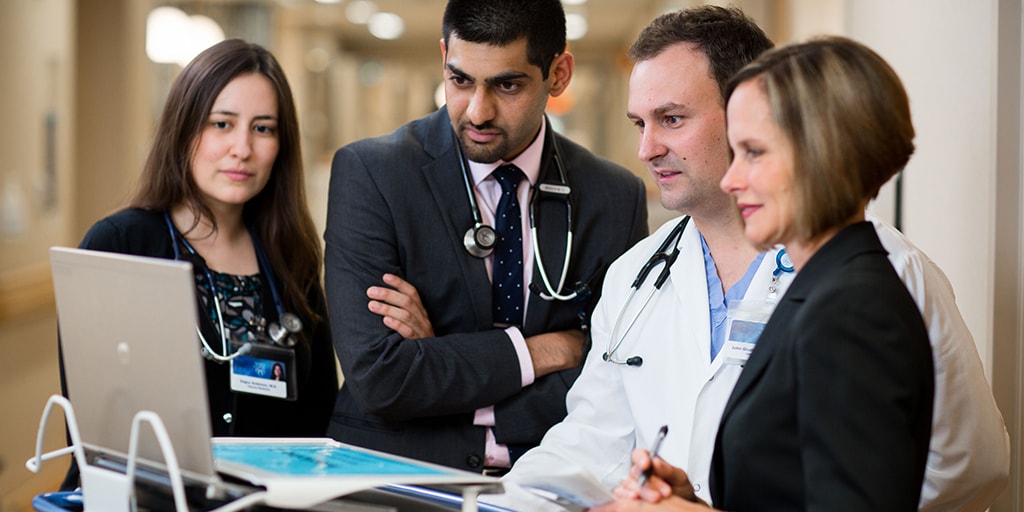 The transition between graduate school training and clinical training can be challenging. To ease the transition, we include re-entry program phases in the curriculum.
To aid in the transition from the highly structured Mayo Clinic Alix School of Medicine curriculum to the more self-directed Ph.D. program curriculum, we offer medical school re-entry counseling. This includes informal meetings as well as other re-entry courses and opportunities. These re-entry phases provide helpful resources to guide you as you navigate between medical training and graduate training.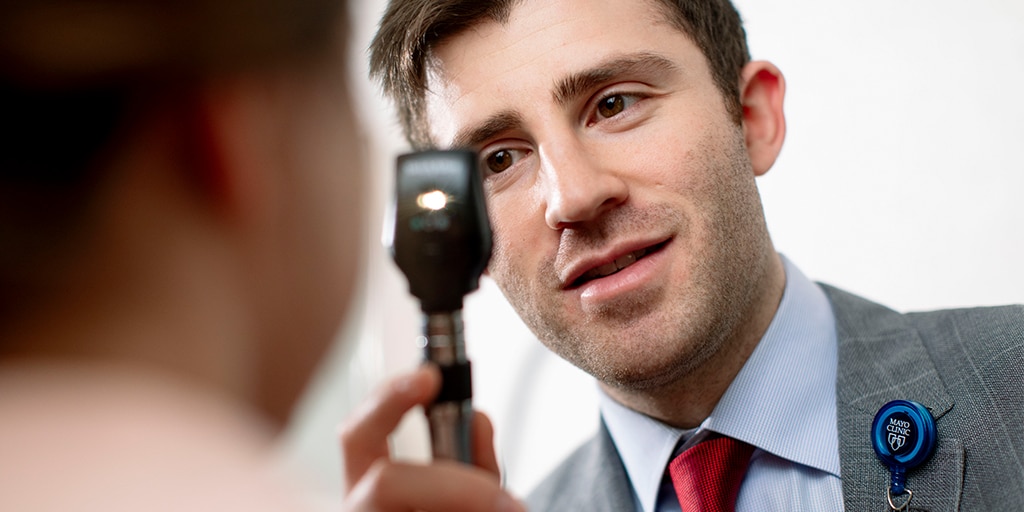 You re-enter medical school in the summer or fall after three or four years spent fulfilling Ph.D. requirements and successfully defending your Ph.D. dissertation (based on re-entry path selected). During this clinical training phase, approximately 18 months of advanced and elective clinical clerkships are required.
Required clerkships involve a combination of clinic- and hospital-based learning, including Internal Medicine, Surgery, Neurology, Psychiatry, Obstetrics and Gynecology, Pediatrics, and Family Medicine. You are also required to complete a six-week acting internship.
Beyond that, you will be able to take additional elective rotations, particularly to explore your chosen subspecialties.
Further clinical clerkships, and a set number of electives that are typically required of M.D. students, are not required for M.D.-Ph.D. students.
Ongoing activities
Several ongoing activities bring M.D.-Ph.D. students in all years of training together several times per month to increase their cohesiveness and camaraderie. These include, but are not limited to:
Weekly M.D.-Ph.D. Conferences which address a variety of topics
M.D.-Ph.D. Retreat
M.D.-Ph.D. Day (Bench-to-Bedside Lecture)
Meetings with the Director
Annual M.D.-Ph.D. Program Progress Evaluation
National M.D.-Ph.D. Student Conference and American Physician Scientist Association (APSA) National Conference
American Physician Scientist Association (APSA) Events - Local Chapter