Prerequisites and Admission Requirements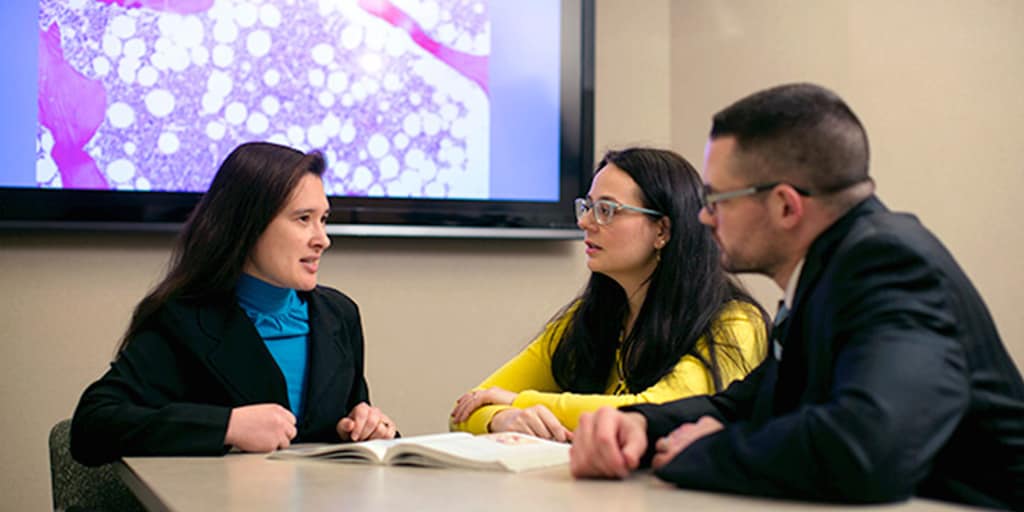 Acceptance factors and criteria
The Mayo Clinic M.D.-Ph.D. Program prepares students to translate scientific discoveries into applications that improve patient care. This requires a wide range of skills, aptitudes, and characteristics.
Along with the basic set of prerequisites, the admission committee takes a holistic approach to admissions; meaning, we take into consideration the many factors that make up an applicant. These acceptance factors include:
Depth and breadth of research experience
Exposure to and exploration of medicine
Leadership experience, artistic and athletic endeavors, and work experiences
Academic performance and GPA
MCAT score/percentile
Personal statement
Letters of recommendation and rating sheets
All qualified applicants will receive consideration for education programs without regard to race, color, religion, sex, gender identity, sexual orientation, protected veteran status, or disability status.
After you review the prerequisites and general requirements for admission, learn more about the admissions and application process.
Transfer policy
Due to Mayo Clinic Alix School of Medicine's unique curriculum that integrates basic and clinical science instruction into each curricular year, it is unlikely that students requesting transfer would have a fully compatible educational experience. In addition, our small class size limits the opportunity for available space. Therefore, the Mayo Clinic Medical Scientist Training Program does not accept transfer students.
Prerequisites
Citizenship
Except as defined in the next paragraph, applicants must be a citizen or lawful permanent resident of the United States, a noncitizen national of the United States, Asylee, or Refugee at the time of application.
Foreign nationals regardless of immigration status, who do not fit into the categories listed above, are currently not eligible for admission to Mayo Clinic Alix School of Medicine unless they are able to present, at time of application, proof of eligibility to file the Free Application for Federal Student Aid (FAFSA), or proof of Canadian provincial or federal financial aid support.
Undergraduate degree
All applicants must have a bachelor's or Pharm.D. degree from an accredited college or university in the United States or Canada. A higher degree cannot be substituted for this requirement, and no exceptions will be made.
Medical College Admission Test (MCAT)
The Medical College Admission Test (MCAT) is required of all applicants. Scores must be posted to the AMCAS application no later than Oct. 1 in order to be considered for the current application cycle. Only MCAT scores reported within three years of matriculation year are considered in admissions decisions.
Grade Point Average (GPA)
There is not a minimum undergraduate GPA requirement for admission to the Mayo Clinic M.D.-Ph.D. Program. All graduate-level coursework and grades are taken into consideration.
Course requirements
All applicants must have the prerequisite courses listed below completed by June 15 of the planned matriculation year. All required coursework must be completed for a letter grade. Pass/fail or credit/no credit will not be accepted. Online labs are not accepted.
| Course area | Minimum requirement |
| --- | --- |
| Biology and/or zoology | One year (with one year of lab) |
| Inorganic chemistry | One year (with one year of lab) |
| Organic chemistry | One year (with one year of lab) |
| Physics | One year (with one year of lab) |
| Biochemistry | One course |
| Calculus | One year. While this prerequisite is not absolutely required for consideration, it is strongly suggested. |
Additional course work in biochemistry, molecular biology, cell biology, and physiology is encouraged.
Applicants for the Biomedical Engineering and Physiology Program track are encouraged to have courses in quantitative science and engineering, such as signal processing, computer science, and instrumentation.
Other admissions requirements
Technical standards (nonacademic criteria)
Matriculating students must meet and maintain the following nonacademic criteria (technical standards) to participate in the Medical Scientist Training Program.
Observation
Students must be able to participate actively in all demonstrations and laboratory exercises in the basic medical sciences.
Students must assess and comprehend the condition of all patients assigned to them for examination, diagnosis, and treatment.
Such observation and information acquisition usually requires the functional use of visual, auditory, and somatic sensation.
Communication
Students must be able to communicate effectively and sensitively with patients in order to elicit information, describe changes in mood, activity and posture, and assess nonverbal communications.
Students must be able to effectively and efficiently transmit information to patients, fellow students, faculty, staff, and all members of the health care team.
Students must possess required communication skills include speaking, reading and writing, as well as the observation skills described above.
Students must be able to communicate their discoveries in English to the scientific community.
Motor
Students must have sufficient motor function to elicit information from patients by palpation, auscultation, percussion, and other diagnostic maneuvers.
Students must be capable of performing basic laboratory tests, possess all skills necessary to carry out diagnostic procedures, and execute the motor movements reasonably required to provide general care and emergency treatment to patients.
Intellectual-conceptual, integrative, and quantitative abilities
Students must be able to measure, calculate, reason, analyze, and synthesize. Problem-solving, the critical skill demanded of physicians, requires all of these intellectual abilities.
Students must be able to comprehend three-dimensional relationships and to understand the spatial relationships of structures.
Students must have the capacity to perform these problem-solving skills in a timely fashion.
Behavioral and social attributes
Students must be able to fully utilize their intellectual abilities and exercise good judgment. Prompt completion of all responsibilities attendant to the diagnosis and care of patients is required.
Students must be capable of developing mature, sensitive, and effective relationships with patients and others.
Students must be able to tolerate taxing workloads, function effectively under stress, adapt to changing environments, display flexibility, and learn to function in the face of uncertainties inherent in the clinical problems of many patients.
Compassion, integrity, concern for others, commitment, and motivation are personal qualities that each student should possess.