Research Resources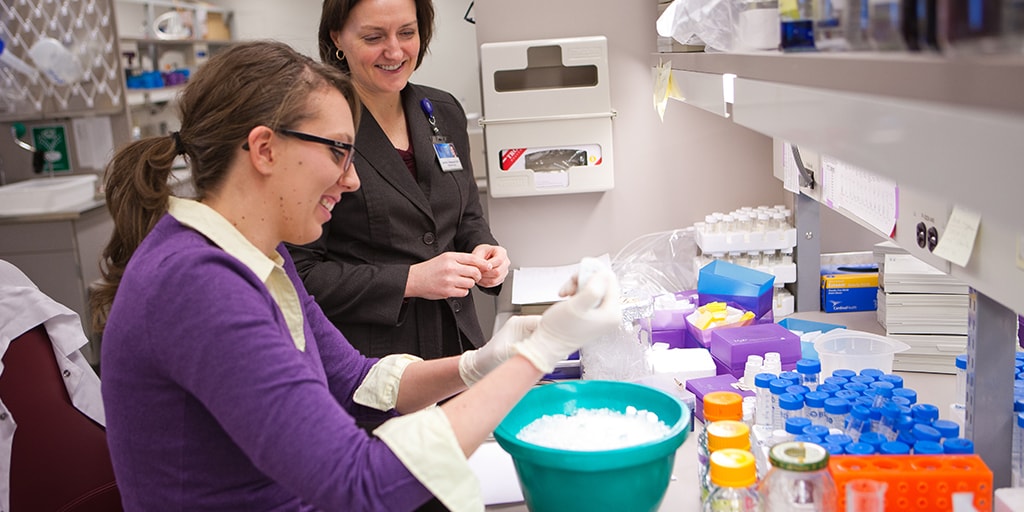 Mayo Clinic's commitment to patients includes maintaining comprehensive and robust research programs that lead to improvements in patient care.
In this program, you will find an ideal research environment, where multidisciplinary teams, reflecting Mayo's broad expertise and unique approach to bench science and direct patient care, develop an infrastructure capable of conducting impactful patient-oriented research.
Mayo Clinic provides the opportunity to access a wealth of clinical material for your research. You will have access to exceptional research resources, including research core facilities that give you access to all of the cutting-edge technology needed. The collaboration and sharing of resources among labs gives you access to virtually every lab in the institution.
Mayo Clinic hybrid clinical research centers
Mayo Clinic is dedicated to numerous specialty research centers, laboratories, and facilities. In all, Mayo supports more than 30 dedicated centers and programs. The five main centers include:
These centers provide opportunities for cross-disciplinary training and collaboration for both faculty and students.
Mayo Clinic core facilities and shared resources
Mayo Clinic's state-of-the-art research core facilities and shared services are designed to support Mayo investigators in order to maintain the quality and competitiveness of research at Mayo Clinic.
There are more than 30 core facilities and shared resources, offering a wide variety of technical services to Mayo researchers. These core facilities offer a centralized use of shared instrumentation, technical and collaborative support, and training for graduate students who wish to learn techniques in greater detail. Students are able to utilize the following main core facilities and shared resources:
Animal Facilities
Antibody Hybridoma Core
Biobank
Bioinformatics Core
Biomedical Imaging Resource
Biostatistics Core (Cancer Center Supported)
Cytogenetics Core (Cancer Center Supported)
Genomic Analysis Shared Resource (Cancer Center Supported)
Immunochemical Core Laboratory
Materials and Structural Testing Resource
Mayo Clinic Libraries
Microscopy and Cell Analysis Core (Cancer Center Supported)
Nuclear Magnetic Resonance Core
Proteomics Core (Cancer Center Supported)
Transgenic and Knockout Core Facility
Zebrafish Core