Research Resources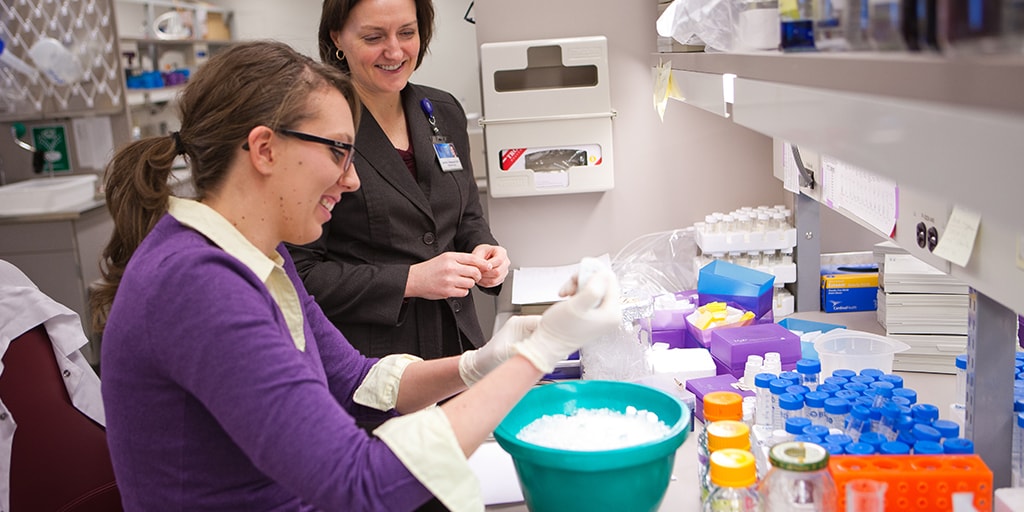 Mayo Clinic's commitment to patients includes maintaining comprehensive and robust research programs that lead to improvements in patient care.
In this program, you will find an ideal research environment, where multidisciplinary teams, reflecting Mayo's broad expertise and unique approach to bench science and direct patient care, develop an infrastructure capable of conducting impactful patient-oriented research.
Mayo Clinic provides the opportunity to access a wealth of clinical material for your research. You will also have access to exceptional research resources, including research core facilities that provide all of the cutting-edge technology needed. The collaboration and sharing of resources among labs gives you access to virtually every lab in the institution.
Mayo Clinic hybrid clinical research centers
Mayo Clinic is dedicated to numerous specialty research centers, laboratories, and facilities. In all, Mayo supports more than 30 dedicated centers and programs. The five main centers include:
These centers provide opportunities for cross-disciplinary training and collaboration for both faculty and students.
Mayo Clinic core facilities and shared resources
Mayo Clinic Research Core Facilities are centralized, shared research resources that provide access to instruments, technologies, testing, and services. They provide expert technical and consultative services to investigators engaged in basic science research and clinical trials. These facilities expand investigators' capabilities, foster collaboration, and accelerate discovery and translation.
Research core facilities make it possible for investigators to focus on their own areas of expertise, augmented by complementary knowledge and assistance from research cores. As a result, promising findings and therapies can more quickly move from the lab to the clinic, where they benefit patients.
Research core facilities exist primarily to serve Mayo Clinic study teams, although some facilities also make their services available to investigators worldwide.
Mayo Clinic research core services help researchers rapidly advance research by:
Providing high-quality services and technical support
Providing cost-effective access to the technology and other resources that investigators need, when they need them
Supporting researchers' publications by generating and analyzing primary data
Advancing science and grant acquisition
Research core facilities cover a wide spectrum of services, which may include:
Consultations and training
Sample testing and processing
Data analysis
Access to specialized equipment and instrumentation
Production of preclinical models
Directing each core is a Mayo investigator with strong experience in that particular field of research. In addition to overseeing a core, core directors maintain their own research programs and are core users themselves.
Mayo core services and technologies are always progressing to meet tomorrow's research needs.
Learn more about the core facility service lines on the research services page.