Curriculum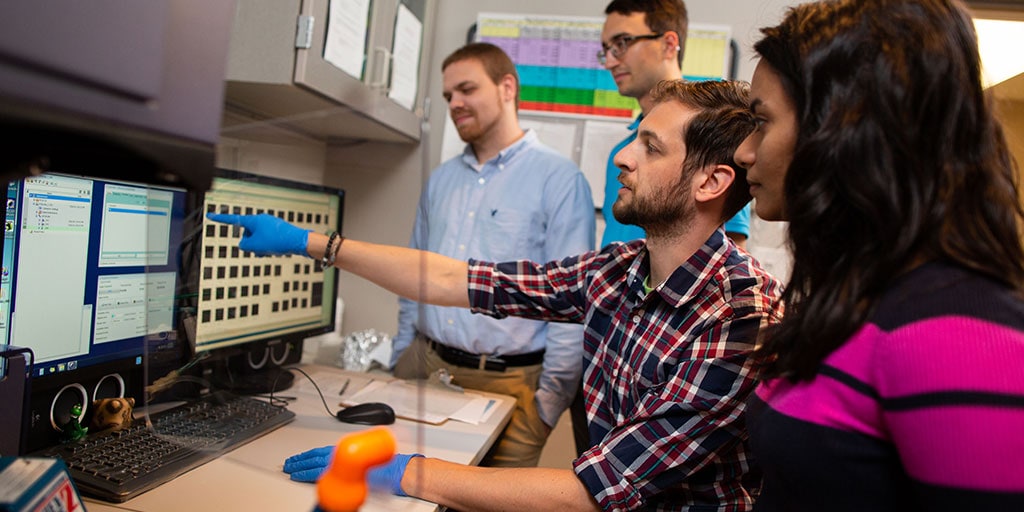 Like at all modern graduate schools, most research training at Mayo Clinic takes place away from the classroom, as part of active research laboratories generating new knowledge, publishing, and changing the faces of science and medicine.
During the first year, students do three eight-week rotations for mentor selection, and select from various core courses that provide fundamental knowledge and technical language to support advanced areas of specialization.
Upper-level courses and colloquia (visiting seminars, journal clubs, works-in-progress presentations) continue in subsequent years, supplementing research group meetings.
The research possibilities are endless here at Mayo Clinic, and you can take advantage of learning opportunities from the most basic molecular structure techniques to clinical trial design and execution. The immense clinical opportunities available to students allow for opportunities that not many graduate programs can offer.
Justin Maroun
M.D.-Ph.D. student, Virology and Gene Therapy Track
You qualify for thesis research by passing a written qualifying exam and an oral defense of a thesis proposal. You then meet every six months with your own thesis advisory committee to discuss progress and individual development plans.
Ph.D. training concludes with defense of a written thesis. At least one first-author scientific publication is required for graduation. Most students author several manuscripts and present at multiple scientific meetings during training.
Degree completion
To earn a graduate degree in biomedical sciences from Mayo Clinic Graduate School of Biomedical Sciences, you must complete a total of 42 didactic credits (32 of which are selected from available core courses). Most students complete the majority of these courses in the first 18 to 24 months of the program while they're doing laboratory rotations, choosing their thesis advisers and beginning thesis research.
On average, our students complete their Ph.D. in just 5.25 years.
Core course options
Summer quarter (4 credits)
| Course | Credits |
| --- | --- |
| Genome Biology* | 3 |
| Responsible Conduct of Research** | 1 |
*Required course for all students except those in Biomedical Engineering and Physiology.
**Required course for all students.
Fall quarter (6 credits)
| Course | Credits |
| --- | --- |
| Chemical Principles of Biological Systems* | 3 |
| Immunology | 3 |
*Required course for all students except those in Biomedical Engineering and Physiology.
Winter quarter (9 credits)
| Course | Credits |
| --- | --- |
| Integrated Systems Physiology | 3 |
| Molecular Cell Biology | 3 |
| Molecular Genetics | 3 |
Spring quarter (13 credits)
| Course | Credits |
| --- | --- |
| Critical Thinking and Scientific Writing | 2 |
| Molecular Biophysics | 3 |
| Molecular Mechanisms of Human Disease | 3 |
| Molecular Pharmacology and Receptor Biology | 2 |
| Virology and Gene Therapy | 3 |
Laboratory rotations
Laboratory rotations are an important part of your first year of graduate study. Through lab rotations, you'll try out different types of research, experience different labs and mentors, and choose your area of specialization. All students complete three eight-week lab rotations. Your first rotation may be done during the summer before classes start.
Lab rotations are a great way to explore potential thesis research labs at Mayo Clinic's campuses in Phoenix/Scottsdale, Arizona, and Jacksonville, Florida. Mayo pays for travel and living expenses, and most courses are available through a real-time video communications link.
You'll choose a thesis laboratory and specific track before the end of the first year.