Alumni Perspectives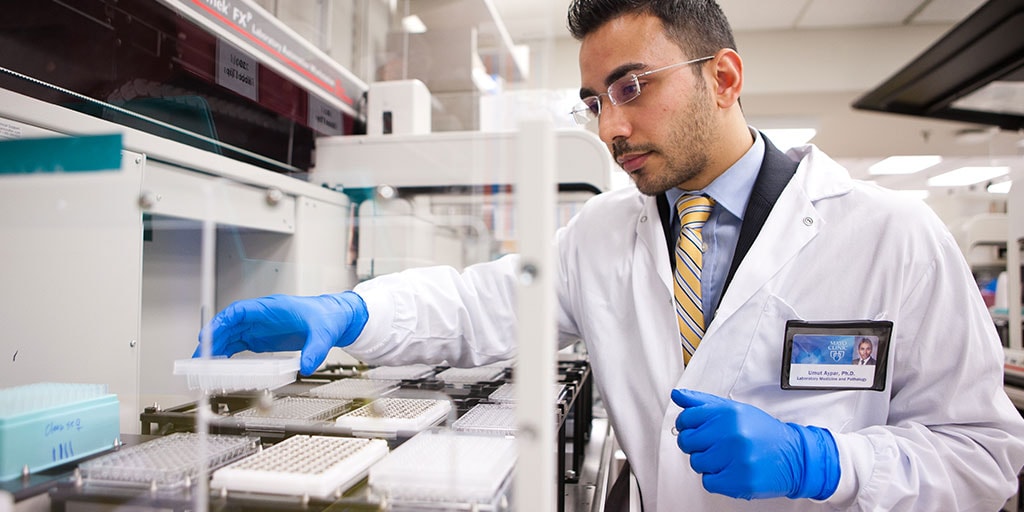 Mayo Clinic Graduate School of Biomedical Sciences offers unique research training experiences that develop future biomedical scientists, educators, and innovators whose leadership will change the world.
Graduates of our program have gone on to pursue substantive careers promoting science, education and health — becoming leaders in biomedical industry and academic laboratories. Many have advanced to postdoctoral positions at prestigious institutions such as Stanford, Johns Hopkins, Massachusetts Institute of Technology, National Institutes of Health, University of Minnesota and University of Washington.
See what some of our graduates have to say about the Ph.D. training they received at Mayo Clinic:
Since defending my thesis this past July, my next step is to begin a postdoctoral fellowship. I've accepted a position in a lab at Vanderbilt University where I will be studying the structure and function of proteins that repair damaged DNA. I ultimately hope to run my own research lab in the future and maintain the same balance that I was exposed to at Mayo between basic, mechanistic research and studies that are directly relevant and applicable to human disease.
Alexandra Blee, Ph.D.
2018 Ph.D. Program graduate
It's amazing how much Mayo provides for their graduate program and for graduate students. In no place that I know of is the support for students as complete and total over the course of the graduate career as Mayo provides for their students.
James Patton, Ph.D.
1988 Ph.D. Program graduate, now a professor of biological sciences at Vanderbilt University
1:47
Eduardo Davila, Ph.D.
A unique aspect of the Mayo graduate school compared to other graduate programs is the ever-present reminder that our research endeavors are truly focused and intended to better a patient's health.
Eduardo Davila, Ph.D.
2002 Ph.D. Program graduate, now an associate professor of microbiology and immunology at the University of Maryland
6:45
Liewei Wang, M.D., Ph.D.
Mayo is a very unique environment compared with many academic universities — you really get exposed to a lot of areas that typical universities won't be able to provide.
Liewei Wang, M.D., Ph.D.
2003 Ph.D. Program graduate, now a professor of pharmacology at Mayo Clinic
2:24
Kim Butts Pauly, Ph.D.
What was really outstanding about Mayo was the ability to be able to do translational work and to be able to take the techniques that we developed into the clinic and test them out.
Kim Butts Pauly, Ph.D.
1993 Ph.D. Program graduate, now a professor of radiology and professor of bioengineering and electrical engineering (by courtesy) at Stanford
Mayo has great facilities, great funding and great access to equipment that allows people to do any type of research that they're focused on … it really prepared us well for careers in science in a variety of different ways.
Jim Hagstrom, Ph.D.
1990 Ph.D. Program graduate, now president of Mirus Bio LLC
5:44
Atta Behfar, M.D., Ph.D.
A Ph.D. gives you tools and gives you a mindset that you don't have coming in. Individuals who are really interested in research and discovery should explore a graduate degree in the biomedical sciences.
Atta Behfar, M.D., Ph.D.
2006 M.D.-Ph.D. Program graduate, now an associate professor of medicine and assistant professor of pharmacology at Mayo Clinic