Molecular Pharmacology and Experimental Therapeutics Track
6
average number of publications by each program graduate
Imagine a career that melds the unparalleled thrill of discovering basic biological mechanisms with the excitement of translating those findings into novel therapies for human diseases.
In other words, "basic science on steroids" ... an environment in which you not only perform cutting-edge basic research that leads to new insights in biology, but you also see how your discoveries can make a difference and you often help to make that possible.
The Molecular Pharmacology and Experimental Therapeutics (MPET) Track of the Ph.D. Program at Mayo Clinic Graduate School of Biomedical Science is a unique and innovative Ph.D. training opportunity for graduate students looking to contribute to the frontiers of 21st-century discovery and medicine.
Our success in training students is demonstrated by the:
Tremendous productivity during student training, including publications in high-impact journals
Excellent postdoctoral opportunities
Fulfilling careers, as leaders in both academia and industry, that former students have pursued
Extra funding provided by a competitive, peer-reviewed NIH predoctoral pharmacology training grant
Extraordinary mentors
MPET faculty members actively mentor you by guiding your research project, fostering your intellectual development as a scientist, developing your communication skills, and providing you with career advice, all with the goal of helping you to become an independent investigator in academia or industry. They also are world-class scientists whose multidisciplinary research programs integrate across the fields of pharmacology, biochemistry, molecular biology, cell biology, systems biology, organic chemistry, structural biology, genetics, and computational disciplines of artificial intelligence and machine learning.
Most importantly, your independent graduate student research project will be a key component of these research programs, which include the areas of:
Cancer biology and therapeutics. Discover the molecular underpinnings that drive cancer and new approaches to curing cancer.
Regenerative medicine. Investigate how to program, or reprogram, human cells to regenerate organs and treat disease.
Pharmacogenetics and pharmacogenomics. Use cutting-edge genetic technologies to discover, at the molecular and cellular levels, why humans have vastly different responses to drugs.
Drug discovery. Use supercomputing and chemistry to discover and develop mechanism-based drugs.
Biology and genetics of addiction. Have you ever wondered how genetics affect addictive behavior, or whether gene therapy can be used to combat addiction? Mayo has several innovative studies underway.
Cardiovascular biology and therapeutics. Identify the molecular mechanisms and genetic defects that contribute to heart disease and develop improved therapies.
Therapy for neurodegenerative diseases. Explore pathways that are disrupted in neurodegenerative conditions such as Alzheimer's disease, and strategies to intercede.
Systems pharmacology. Apply artificial intelligence, machine learning, and other computational tools to the study of biological systems and their response to various therapeutics.
Computational pharmacology. Our faculty have embraced the most advanced computational approaches including machine learning and artificial intelligence as applied biomedical science.
Curriculum
This visionary didactic program can be tailored specifically to your needs and is designed to train you to:
Integrate across scientific disciplines
Perform cutting-edge, discovery-oriented research and to apply modern computation to help perform that research
Further your understanding of human biology
Enhance patient care through the development of novel disease therapies
The first- and second-year core curriculum courses provide the broad foundation of knowledge needed to interpret cutting-edge research findings and successfully perform laboratory research. Additional classes focus on the basic principles of drug action and metabolism and the rapidly evolving concepts of receptor and signal transduction mechanisms relevant to pharmacology and to all of biology.
As a student, you'll also select from a menu of small-group tutorials that provide in-depth learning experiences covering:
Systems and computational pharmacology
Pharmacogenomics and pharmacogenetics
Drug discovery
Cell signaling
DNA damage signaling and repair
Cardiovascular biology
Neurodegeneration
Psychiatric pharmacology
In your first year, you'll have the opportunity to rotate with three research mentors. By the end of the first year, you'll select a mentor who best matches your scientific interests and goals.
You have the option of taking the written qualifying exam, followed by the oral qualifying exam, at the end of your first year or second year.
The third, fourth and fifth years of the MPET program focus on thesis research. After completing class work and passing the written and oral qualifying exams, you'll work full-time on your thesis project.
Presentation opportunities
Throughout graduate training, you'll gain effective communication skills by participating in weekly student seminars, lab meetings, journal clubs, and class tutorials. In addition, virtually all MPET students present their work at national scientific meetings.
Additional learning opportunities
MPET students have excellent opportunities to learn from national and international experts inside and outside of Mayo Clinic. Active seminar programs in each department bring many distinguished scientists to the Mayo Clinic campus. MPET investigators host seminar speakers who are engaged in therapy development in a variety of settings, including academia, the pharmaceutical and biotechnology industries, and government laboratories.
As a student, you'll have ample opportunity to interact with these distinguished visitors in formal and informal settings and are encouraged to attend seminars sponsored by any of the graduate school departments and programs.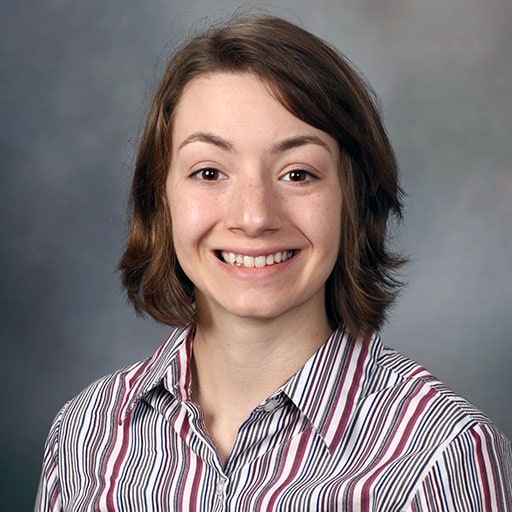 Our faculty are on the cutting edge of science in numerous fields. Even though they come from many different fields and perspectives, the faculty are united in their investment in our success as students and they provide us with a supportive environment that fosters critical thinking and innovative approaches to our research.
Rebecca Kelly
Ph.D. student, Molecular Pharmacology and Experimental Therapeutics Track
The most exciting part about being at Mayo Clinic for Ph.D. training is that I don't need to restrict myself to any particular field or track. The curriculum is designed to encompass the basics of every field, and the opportunity to pick labs from outside my own track means I can develop my own personal skill set theoretically and in terms of lab experience.
Glancis Luzeena Raja Arul
Ph.D. student, Molecular Pharmacology and Experimental Therapeutics Track
The nice thing about smaller class sizes is that students do not overload the resources we have here. As such, we have full access to core facilities, student services and faculty. This has allowed me to pursue my education as I see best. The only limiting factor is me, not the environment.
Christopher Paradise
Ph.D. student, Molecular Pharmacology and Experimental Therapeutics Track
Being part of an extremely productive, yet incredibly social and fun-loving lab has provided an incredible work environment that makes every day an absolute joy to be in the lab working toward better understanding of the diseases we study.
Steven Dotzler
M.D.-Ph.D. student, Molecular Pharmacology and Experimental Therapeutics Track
Recent thesis topics
"Keto Acids and Cancer Metabolism," Katie Minter Dykhouse, Ph.D. (Mentor: Taro Hitosugi, Ph.D.)
"Pathobiology of Cluster in in Alzheimer's Disease," Christopher Paradise, Ph.D. (Mentor: John D. Fryer, Ph.D.)
"Microglial Responses to Citrullinated Myelin and the Consequences of Demyelination," Elizabeth Wiese, Ph.D. (Mentor: Charles L. Howe, Ph.D.)
"Neural Basis of Chronic and Binge Alcohol Exposure and Impulsive Behaviors," Rachel Hurley, M.D., Ph.D. (Mentor: Doo-Sup Choi, Ph.D.)
"Nectin-elicited Cytoplasm Transfer Characterization and its Exploitation by Measles Virus," Somaira Nowsheen, M.D., Ph.D. (Mentor: Roberto Cattaneo, Ph.D.)
"Evaluation and Modulation of Cardiomyocyte Subtype Development from Human Induced Pluripotent Stem Cells," Yujin Kim, Ph.D. (Mentor: Timothy J. Nelson, M.D., Ph.D.)
"Elucidation of MRAS-Mediated Noonan Syndrome," Sherri Biendarra-Tiegs, Ph.D. (Mentor: Michael J. Ackerman, M.D., Ph.D.)
"Investigating Seeding and Aggregation of Microtubule-Associated Protein Tau," Erin Higgins, Ph.D. (Mentor: Leonard Petrucelli, Ph.D.)
"The Genetics of Aromatase Inhibitor-related Phenotypes in Postmenopausal Women with ER+ Breast Cancer," Tanda Dudenkov, M.D., Ph.D. (Mentor: Richard Weinshilboum, M.D.)
"Metformin Pharmacogenomics: Functional Genomics of CDC25B and TPD54 Regulation of Metformin Anticancer Response in Breast Cancer," Reynold C. Ly, Ph.D. (Mentor: Liewei Wang, M.D., Ph.D.)
"GLI1 Gene Expression Regulation in Cancer," Stephanie L. Safgren, Ph.D. (Mentor: Martin E. Fernandez-Zapico, M.D.)
"Regulation of DNA Double Strand Break Repair," Somaira Nowsheen, Ph.D. (Mentor: Zhenkun Lou, Ph.D.)
"Linking Oncogenic Signal to Mitochondrial Metabolism," Kiran Kurmi, Ph.D. (Mentor: Taro Hitosugi, Ph.D.)
"Individualization of 5-Fluorouracil (5-FU) Chemotherapy," Shikshya Shrestha, Ph.D. (Mentor: Robert B. Diasio, M.D.)
"Impacting the Clinical Course of Epithelial Ovarian Cancer Through Novel Therapeutic Advances," Rachel M. Hurley, Ph.D. (Mentor: Scott H. Kaufmann, M.D., Ph.D.)
"Developing Inhibitors of Mesotrypsin Utilizing Protein Engineering and Computational Modeling," Olumide Kayode, Ph.D. (Mentor: Evette S. Radisky, Ph.D.)
"Elucidating the Tumor Suppressive Effects of Estrogen Receptor Beta in Breast Cancer," Jordan M. Reese, Ph.D. (Mentor: John R. Hawse, Ph.D.)
"Adenosine Signaling and Hippocampal-Cortico-Limbic Circuitry: Implications for the Regulation of Reward Seeking Behavior," Alfredo Oliveros, Ph.D. (Mentor: Doo-Sup Choi, Ph.D.)
"Novel Therapeutic Approaches for Acute Myelogenous Leukemia and Other Myeloid Disorders," Katherine Knorr, M.D., Ph.D. (Mentor: Scott H. Kaufmann, M.D., Ph.D.)
"Discovering Molecular Genetic Defects Underlying Pediatric Dilated Cardiomyopathy," Pamela A. Long, Ph.D. (Mentor: Timothy M. Olson, M.D.)
"Assessing the Mechanisms of Chk1 Inhibitor-Induced Cell Death and Resistance in Acute Myelogenous Leukemia," Nicole D. Vincelette, Ph.D. (Mentor: Scott H. Kaufmann, M.D., Ph.D.)
"Development of an Early Drug Discovery Campaign Targeting Fungal Rtt109 Histone Acetyltransferases," Jameson L. Dahlin, M.D., Ph.D. (Mentor: Zhiguo H. Zhang, Ph.D.)
"CDK12: A Kinase at the Intersection of Homologous Recombination and mRNA Processing in Ovarian Cancer," Poorval M. Joshi, Ph.D. (Mentor: Larry M. Karnitz, Ph.D.)
"New Mechanism of Liver Fibrosis: A Novel Role of Exosome," Ruisi Wang, Ph.D. (Mentor: Vijay Shah, M.D.)
"Regulation of Base Excision Repair by GSK-3 Mediated Phosphorylation of UNG2," Carly A. Baehr, Ph.D. (Mentor: Larry M. Karnitz, Ph.D.)
Your future
Graduates of Mayo's MPET Track have a long history of advancing to top-notch residency and postdoctoral positions at the most prestigious research institutions in the country. These include Stanford, Baylor, University of Virginia, Johns Hopkins, Harvard, the National Cancer Institute and Memorial Sloan Kettering. Many former students are now principal investigators in academia or industry, including at Emory, Louisiana State, Mayo Clinic, University of Minnesota, Amgen, Abbott, and AstraZeneca.
Meet the director
Molecular pharmacology and experimental therapeutics is an exciting discipline that prepares you for success in today's rapidly evolving biomedical research environment.
The most successful biomedical scientists integrate across various disciplines to devise and answer important questions that enhance our understanding of biology and impact the treatment of disease.
Our program provides exactly that integration by training students to use pharmacology, biochemistry, molecular biology, genetics, cell biology, and genomics to develop new therapeutic approaches to treat human diseases.
Martin Fernandez-Zapico, M.D.
Molecular Pharmacology and Experimental Therapeutics Track Director
Professor of Medicine and Pharmacology
Phone: 507-225-0285
Email: fernandezzapico.martin@mayo.edu
See research interests