Student Organizations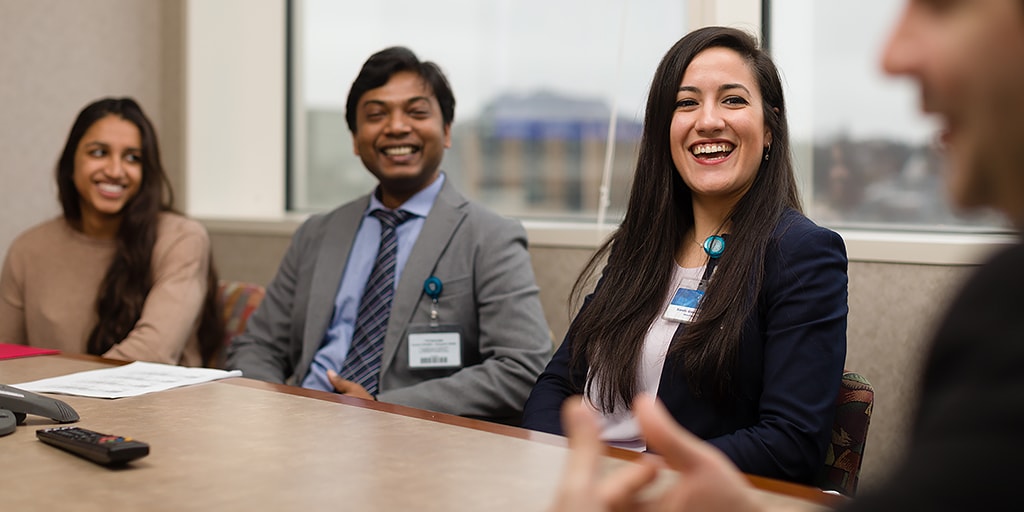 Get involved and make connections by joining a student organization where you can meet others, pursue interests together, and build essential leadership and career skills.
Student Life and Wellness Committee
The Student Life and Wellness Committee (SLWC) actively seeks to improve student life in non-academic ways, to help our students achieve and maintain optimal physical and emotional health. The SLWC strives to foster a culture that prioritizes student well-being and empowers students to adopt and maintain a healthy balance in all domains of well-being, including emotional, physical, financial, social, and work-life balance.
The SLWC is student led, with faculty and school administration liaisons to provide support, and includes members from across MCGSBS campuses and programs. The SLWC works in collaboration with college student services resources for academic support and well-being.
Recent SLWC initiatives
Michele Halyard Lecture Series
To promote education and discussion on topics of diversity, equity, inclusion and belonging.
Wellness Lecture Series
To educate students on an array of topics such as financial planning, seasonal affective disorder, and imposter syndrome.
Student initiated wellness activities
Funding is available for students to plan and host wellness-oriented activities.
Annual well-being assessment
An annual survey provides a longitudinal assessment of student mental health and well-being.
The graduate school SLWC is a fantastic, student-led, student-focused group of people who are committed to improving the well-being of students at Mayo. We're focused on mental health education and supporting our peers through the unique challenges of graduate school. It's an incredible opportunity to work alongside students and faculty who share a focus on improving student lives.
Brad Bowles
Ph.D. student, Clinical and Translational Sciences Track
Graduate Student Association
The purpose of the Graduate Student Association (GSA) is to facilitate the interaction between the administration of Mayo Graduate School and students enrolled in the graduate degree programs. It also provides an avenue for information exchange between graduate students in various programs.
Each track selects a student representative. The reps meet throughout the year with the associate dean for student affairs and the administrator for the graduate school. The reps are to bring to these meetings concerns from students in their programs, to serve as a contact for items from each program for the newsletter, and to plan graduate school student activities.
To connect with the GSA, contact mayograduateschoolgsa@mayo.edu.
Participating in GSA is an excellent way to share cross-disciplinary ideas and perspectives. Doing so allows for each track to learn from the others resulting in continued improvement across the board.
Christopher Paradise
Graduate student
More ways to get involved
There are so many activities, volunteer initiatives, groups, and organizations for you to build your community at Mayo Clinic and within the area. Learn more about the many ways graduate students get involved both on and off campus!
American Physician Scientist Association (APSA)
Mayo Clinic has a local chapter of APSA, led by students that supports programming for those seeking careers in both research and medicine.
Biomedical Engineering Society (BMES)
Mayo Clinic has a local chapter of the national professional organization for biomedical engineering.
Brainwaves
Brainwaves is a student-run neuroscience outreach program dedicated to forging educational partnerships with local schools and community youth programs serving disadvantaged students in the Rochester area.
Christian Medical and Dental Association (CMDA)
Mayo Clinic has a local chapter of the national evangelical umbrella organization that provides unity, interconnection, and relevant education.
Initiative for Maximizing Student Development (IMSD)
IMSD is a program focused on increasing the number of researchers in underrepresented groups by offering opportunities for professional development, improving communication skills, and providing counseling and evaluation.
Initiative for Medical Equipment Sustainability (IMES)
IMES is a student-run group focusing on empowering health care and engineering technicians in developing countries through outreach focused on medical and laboratory equipment sustainability.
InSciEd Out
Integrated Science Education Outreach (InSciEd Out) is a collaborative group among Mayo Clinic, Winona State University-Rochester, and Rochester Public Schools set to give pre-K-12 students an opportunity to connect with and engage in conversation with scientists, engineers, and educators.
LGBTI Student MERG
A subcommittee of the LGBTI Mayo Employee Resource Group, this group meets to discuss how to create and foster a safe and inclusive environment for Mayo Clinic College of Medicine and Science learners.
Mayo Chamber Symphony
This orchestra meets Tuesday evenings from September through April with three concerts each year. The orchestra is informal and fun with players of mixed abilities.
Pedagogy Interest Group
This group offers workshops on becoming better teachers and communicators.
Regenerative Sciences Training Program (RSTP)
RSTP is a trans-disciplinary education program designed to enhance trans-disciplinary Ph.D. training specifically in regenerative sciences and will equip the next generation of leaders with the skills necessary for the discovery, translation, and ethical application of regenerative medical therapies.
Somos Latinos MERG
This MERG creates an infrastructure that promotes, educates, and celebrates the cultural heritage of Hispanic and Latino employees and students.
Women in Science and Engineering Research (WiSER)
WiSER supports the success of women in research by providing opportunities for career development, networking with women leaders, identifying strong mentors, and developing a meaningful community for women in biomedical research at Mayo Clinic.
Off-campus volunteer activities that are popular with grad students:
Off-campus groups and activities that are popular with grad students:
Choral Arts Ensemble
Curling Club of Rochester
Indoor soccer leagues
Kickboxing
Mario Roberto Jiu Jitsu Academy
Rochester Community Education
Rochester Parks and Recreation sports leagues
Rochester Soccer Club
Rochester Tennis League
United States Tennis Association (USTA)